Columbus Ohio History
Columbus is the capital of the state of Ohio. As per the 2016 estimates, Columbus had a population of 860,090, making it the most heavily populated city in Ohio. This city is the administrative center of Franklin County. Over the years, it has expanded and taken over parts of neighboring Fairfield County and Delaware County. The city boasts a diverse economy that consists of government, education, banking, defense, healthcare, hospitality, food, technology, among other lucrative industries. It is the home for globally recognized research centers and universities such as Battelle Memorial Institute and The Ohio State University. This excerpt will focus on the Columbus Ohio history.
History of Columbus
After Ohio attained statehood back in 1803, heated political wrangling among top Ohio leaders resulted in the movement of the state capital from Chillicothe to Zanesville, and then back to Chillicothe. The state legislature desired to establish a state capital in a permanent location, but they could not agree on Delaware, Dublin, or Worthington. Therefore, they reached a compromise that led to the building of a new city in the heart of Ohio, adjacent to key transportation routes, mainly rivers. The new city was established on February 14, 1812, and named after Christopher Columbus.
On February 10, 1816, Columbus became a municipality, and nine individuals were elected to serve in various capacities. In 1831, The National Road, extending from Baltimore to Columbus, connected the city to Erie Canal and Ohio and expedited a population boom. With about 3,500 people, Columbus received a charter that recognized it as a city On March 3, 1834. The parliament implemented a special act that allocated judicial responsibilities to the mayor and legislative duties to the city council on that day. Elections took place in April of that year, and John Brooks trounced his competitors to become the first mayor of the new city. In 1837, Columbus expanded and took over the city of Franklinton.
What are the major historical events that took place in Columbus?
1. In 1849, Starling Medical College officially opened its door on the current location of Grant Medical Center. It was the first teaching medical facility in the United States.
2. In 1850, Columbus built its first train station known as Columbus Union Depot. Today, this train station is called the Columbus Convention Center.
3. In 1863, Horse-drawn streetcars were unveiled. The horse car era began back in 1863 with a line that started from Columbus Union Depot extended past Broad and High Streets and eventually to the South High Streets. With the commencement of electrification in 1888, the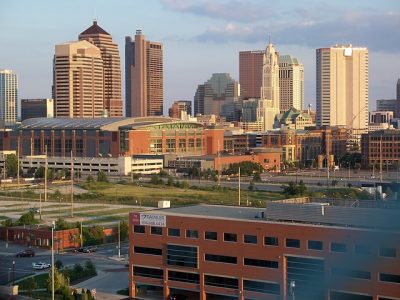 number of horse cars started to decline. The horse car era ended in 1892 after the Oak Street Line, which was the last horse car line, was converted to electrified streetcars.
4. In 1917, the Columbus City Council allowed women to participate in municipal elections as voters.
5. In 1999, Columbus got its first African-American mayor. Michael B. Coleman won the hearts of many residents of Columbus and received many votes to beat his opponents.
Armed with rich cultural history, well-performing industries, and interesting places to visit, Columbus is one of the rapidly growing cities in the United States. The city has a highly educated labor force and exceptional wage growth. It has featured on prominent magazines, such as Forbes, Business Week, as one of the best cities for careers and business.